An under-the-radar special situation is emerging with PIOE's two-part acquisition of RCP Advisors, promising rich rewards over the next several months for investors at these share-prices.
RCP Advisors is a large, respected, fast-growing private equity investment management firm; its relevant segments for PIOE oversee $3.6 billion in assets under management (AUM).
A conservative-to-average valuation method just on that AUM would mean PIOE's stock soars from present mid-$0.70s up to around $1.60 – $2.00.
Alternatively, PIOE will generate, on best guess, EPS of at least 0.13 from RCP's likely $25 million revenue in 2018, and probably more EPS from other revenue sources.
A sector-average P/E of 15 just on an EPS of 0.13 would create a PIOE share-price of $1.95, more than 150% higher than its present share-price.
Seeking Alpha PRO subscribers received early access to this article
Early on the morning of Friday, October 6, 2017 came the surprising news of an acquisition and pending acquisition of the two main segments of large private-equity investment management firm RCP Advisors(www.rcpadvisors.com) by a Texas-based, publicly-trading "NOL shell" company, P10 Industries, Inc. (OTC: OTCPK:PIOE) (formerly PIOI, and before that ACPW) (www.p10industries.com).
A restructuring of the executive officers and board directors of PIOE has created a top-notch leadership team of seasoned veterans with expertise in wealth-creation and wealth-management. For six individual profiles of the new team at P10 Industries, see here. I strongly believe that the assembly of professionals here at both PIOE and RCP Advisors will be one of the reasons that institutional fund managers will be buying PIOE stock when (not "if") it eventually up-lists to a major exchange, which I expect sometime by Q3 2018 or by early 2019 at the latest.
This article provides a closer look at RCP Advisors, P10 Industries, the key players, the brilliant merger play, and profits for investors going forward as RCP grows its assets-under-management (AUM) and PIOE monetizes its patent technology. Here is a table of contents for what will be covered in introducing this company to a wider audience:
A Brief Word on NOL Shells and Reverse Mergers
About RCP Advisors
How to Possibly Value PIOE and Its New Subsidiary RCP Advisors (–using two valuation methods)
Likely Patent Monetizations for PIOE (–now that patent monetization specialist Rob Stewart is on board)
How RCP Advisors Benefits from the Acquisition
PIOE's Share Structure (–insiders own most shares, with only a tiny public float of shares left)
How P10 Industries Originated and Got To This Point
Possible Dividend?
Risks to the PIOE Investment Thesis
____________________________
A Brief Word on NOL Shells and Reverse Mergers
The news of PIOE's acquisition of RCP Advisors followed several months of speculation by PIOE shareholders on the possible target. The RCP acquisition demonstrates an impressive example of how a small company—PIOE in this case—can carefully, properly shepherd over time and finally exploit the considerable tax benefits of its sizeable NOLs or Net Operating Losses and turn them into great value.
This kind of merger based on advantageous NOLs is far more rare than one might think, due to strict rules pertaining to "change of ownership" and "change of control" provisions in the Internal Revenue Code of 1986. Otherwise most failed tech and biotech stocks would be candidates for NOL-maximizing mergers. (This Seeking Alpha article discusses the value of NOL-shell companies as investments.) As for the reverse mergerphenomenon, though many of us recall the alarming R-M debacles with Chinese scam companies of 2010-2011, we should also know that numerous successful reverse mergers have occurred over the decades, allowing private companies to go public, as an alternative to the lengthier, costlier and riskier IPO process. For example, oilman Armand Hammer made Occidental Petroleum (OXY) a public company in the 1950s by merging the firm into a shell company. Ted Turner reverse-merged his company with Rice Broadcasting to form Turner Broadcasting System. Warren Buffett's highly-valued Berkshire Hathaway resulted from a reverse merger. Other examples of reverse mergers notably include Muriel Siebert's Siebert Financial, Burger King, Jamba Juice, Blockbuster Video, Tandy Corporation (Radio Shack), Texas Instruments, and Waste Management, to name several. The venerable New York Stock Exchange itself became a publicly traded company (NYSE:NYX) in 2006 by performing a reverse merger with Euronext (both became divisions of ICE as of 2013).
And so it is that NOL-shell company P10 Industries, Inc., has acquired RCP Advisors 2 on Oct. 5, and will finalize the acquisition of RCP Advisors 3 in January 2018, via a reverse-merger of RCP into PIOE that stands to greatly benefit all parties involved, including any of us retail shareholders.
____________________________
About RCP Advisors
Before getting to the "nitty-gritty" numbers on possible earnings, valuation, share structure, etc., let's introduce PIOE's acquisition target to give current and prospective investors a clearer sense of who/what they'll own….
RCP Advisors, founded in 2001, is based in Chicago, Illinois, with a satellite office in Newport Beach, California. It describes itself as "a leading sponsor of private equity funds-of-funds, secondary funds, and co-investment funds [that] additionally… provides advisory and research services." "RCP believes it is one of the largest private equity fund-of-funds sponsors focused exclusively on the lower middle market buyout sector. RCP manages over 200 partnership investments with over 100 general partners." It employs 45 professionals including both full-time and part-time employees, not including some clerical workers, according to the RCP website and also RCP Advisors' several different "Form ADV" documents at the Investment Advisor Public Disclosure (IAPD) website. (IAPD states: "Form ADV is the uniform form used by investment advisers to register with both the SEC and state securities authorities.")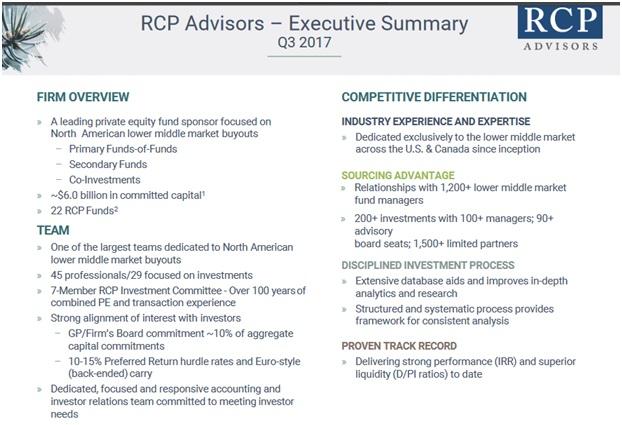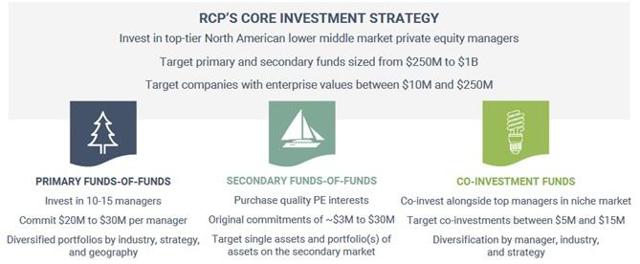 RCP Advisors primarily provides advisory services to 22 different RCP Private Equity Funds and also has a small amount of SMA (Separately Managed Account) business. The RCP Advisory Business is conducted under a combination of three Delaware LLCs:
RCP Advisors, LLC ("RCP 1") serves RCP Private Equity Funds formed prior to 2011
RCP Advisors 2, LLC serves RCP Private Equity Funds formed between 2011 – 2015
RCP Advisors 3, LLC serves RCP Private Equity Funds formed after 2015
The newest (Oct. 23, 2017) Form ADV Part 2A "Brochure" for RCP Advisors (RCP 1) and RCP Advisors 3 archived at the IAPD website, and a similar but older (pre-acquisition) Form ADV Brochure for RCP Advisors 2 (Sept. 11, 2017), both disclose the acquisition of RCP 2 and the coming acquisition of RCP 3 to be closed in January. No mention is yet made by either document that it is P10 Industries who is the "Public Acquirer." In any case, "Following the completion of the Acquisition, RCP 3 will be a wholly-owned subsidiary of the Public Acquirer, with the partners of RCP 2 and RCP 3 holding a substantial minority interest (49.5%) in [the Acquirer…PIOE]. Notwithstanding the changes at the management company level, the Acquisition will not result in any changes to the management of RCP."
PIOE's recent Q3 press release on Oct. 30, 2017 reported some key facts that I shall use later to estimate a shareprice valuation for PIOE with the new RCP acquisition under its belt:
"[O]n October 5, we closed on the acquisition of RCP Advisors 2, LLC and entered into a purchase agreement to acquire RCP Advisors 3, LLC in January, 2018 (collectively 'RCP Advisors')…. In the last twelve months RCP Advisorsgenerated approximately $23 million in revenue on an assets under management [AUM] base of $3.6 billion. [Emphasis added.] RCP Advisors also manages $1.0 billion of assets for which the management fees are earned by an entity [RCP 1] which was not acquired by P10 Industries. We look forward to reporting their continued success."
RCP Advisors' AUM figure has grown strongly in recent years and so that $3.6 Bn AUM for RCP 2 and RCP 3 will likely be significantly higher in 2018 unless a bear market prevails for much of the year. See this chart (below) of RCP's robust growth rate of AUM for all three segments, RCP 1, RCP 2 and RCP 3, which indicates $4.47 billion in AUM as of May 1, 2017. PIOE's Q3 press release indicates a currently higher AUM at $4.6 Bn (adding $3.6 Bn and $1.0 Bn for all three segments of RCP). The chart below suggests that RCP's overall AUM has grown about $1.8 billion or 70% in a recent 30-month period, an astonishing growth rate.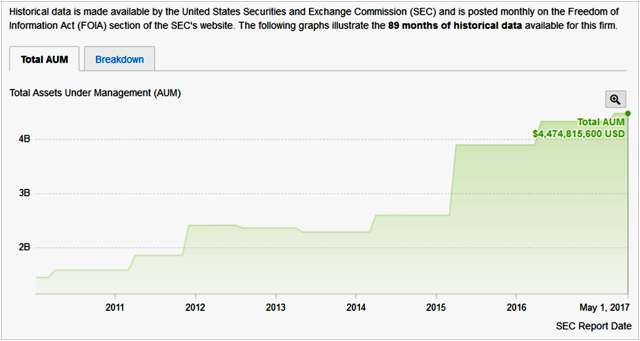 –Source: here
The Investment-Advisors-Credio website observes that, with such an amount of AUM, "RCP Advisors is categorized as a large investment firm, with assets above the prestigious one billion mark."
For anyone wondering who owns the older entity RCP 1—the answer is CLIA Trust (via CLIA Management, LLC). From the Form ADVs at the IAPD site, we learn: "For RCP Funds formed prior to 2011, RCP 1 serves as the investment manager and RCP 3 serves as the sub-advisor. For RCP Funds formed between 2011 through 2015, RCP 2 serves as the investment manager and RCP 3 serves as the sub-advisor. For RCP Funds formed after 2015, RCP 3 serves as the investment manager."
So RCP 2 and RCP 3 contain all the newer RCP Private Equity Funds and 78% of the AUM previously held by all three advisory segments. Moreover, the Form ADV filings indicate that RCP 3 is considered the sub-advisor for each of the other two, since it is the entity for whom all the employees work and it pays overhead expenses for all three entities. RCP 3 is therefore (we presume) the only operating entity here. And for RCP 3's services provided to RCP 2 and RCP 1, it is paid a portion of the 1% management fees collected from the respective underlying RCP Funds.
RCP Advisors documentation sums up how its compensation comes from "Advisory Fees" and "Other Fee Types":
Advisory Fees:
A percentage of assets under management (up to 1%, with discounts for big investors or certain longtime investors, etc.)
Fixed fees (other than subscription fees)
Performance-based fees / allocations (carried interest)
Other (interest income on investors contributions-an affiliated general partner may pay the registrant interest)
Other Fee Types (and note that Due Diligence fees are only for RCP 1)

–Source: RCP's Form ADV Part 2A Brochure, p. 8, filed at IAPD website.
From the Brochure for RCP 1 and 3, we learn of the investment software program GPScout, which RCP bought with its own funds, which brings in subscription fees from investors and advisory clients.
We also hear something of RCP Advisors' "Methods of Analysis, Investment Strategies and Risk of Loss" (Item 8, pp. 16-22) as these pertain to RCP Funds, their RCP Advisors, their General Partners, and their investors.
And we hear that the RCP Advisors continuously monitor the portfolios of the RCP Funds and clients over which the Advisors exercise investing discretion. RCP's investment committee, supported by RCP's investment team, is responsible for such monitoring. Members of the investment committee are led by Senior Managing Partner William Fritz Souder (who is now a Board Director at PIOE) and include other managing partners Jeff Gehl (also now a Board Director at PIOE), Thomas Danis, Charles Huebner, Jon Madorsky, David McCoy, and Alexander Abell.
The lengthier Form ADV filings disclose that financial statements for the RCP Funds advised by RCP Advisors are all subject to an annual audit, done according to U.S. GAAP accounting rules, that their auditor is KPMG (one of the "Big Four" firms), and that their audited annual financial statements and unaudited quarterly statements are sent to their investors.
Moreover, we learn that RCP Advisors key personnel have not been cited for any felonies, misdemeanors, or ethical breaches.
____________________________
How to Possibly Value PIOE and Its New Subsidiary RCP Advisors
After closing on Friday Nov. 17 at a shareprice of $0.73, PIOE on its 89,234,816 outstanding shares (as of Oct. 6, 2017) has a market-cap of $65.1 million. This is about double where the stock was before the RCP acquisition, and yet the transaction almost doubled the number of shares. But the relatively few people who know about PIOE and RCP Advisors obviously liked what they heard—despite the heavy dilution of shares by half.
Remember PIOE management telling us in the press release of Oct. 6 that RCP Advisors 2 and RCP Advisors 3 over the prior twelve months collectively "generated approximately $23 million in revenue on an assets under management [AUM] base of $3.6 billion." And recall the chart showing that AUM is rapidly growing at a robust percentage rate.
Just these two facts pertaining to revenue and AUM allow us to use two different methods for presenting some ballpark estimates for how to value PIOE shares.
First, in the simpler of the two methods, academic research shows that "Asset management firms trade at [market-cap] prices of 3% to 10% of assets under management" (Bernd Scherer, Portfolio Construction and Risk Budgeting, 5thedition, 2014; and see here). If the market were to value RCP Advisors 2 and 3 at just 4%–5% of their $3.6 billion AUM, and this may be too conservative given that their net income will be tax-free for many years with PIOE's NOLs (net operating losses), then their market cap, after the acquisition deal is complete, would become valued around $144 million, or $1.61 – $2.00 shareprice for PIOE on its 89.23m shares. That would be 115% to 166% up-side from PIOE's shareprice on Nov. 20 of $0.75. And presuming the AUM continues to grow, a patient investor would see even greater appreciation in the stock price over the next 18-36 months. For instance, valuing a $4.5 – $5.0 billion AUM at 5% would yield a share-price of $2.52 – $2.80.
For a second method of valuing PIOE shares, we can consider that $23 million in revenue for RCP Advisors over the past twelve months and estimate a bottom-line earnings number. How can we do this? For comparison, let us look at a somewhat comparably-sized publicly traded company, Hennessy Advisors (Nasdaq: HNNA), and study p. 33 of the 10-K document for their full-year 2016 earnings report, filed with the SEC.
Full year 2016 Financial Results for Hennessy Advisors: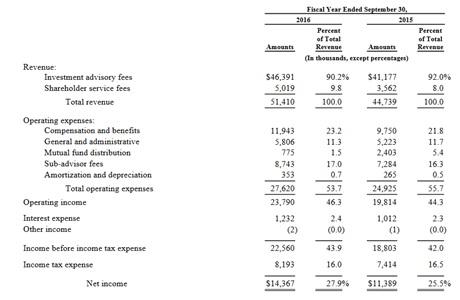 Source
When we look for comparison at these results for Hennessy Advisors, we notice that their Operating Income, before taxes and interest expenses, was $23,790,000 a little less than half (46.2%) of their "Total revenue." For further comparison, I checked the financial results for some other publicly-traded investment management companies, and these also show net operating income amounting to around 46% of revenue, such as Diamond Hill Investment Group (Nasdaq: DHIL) and others.
Now, reflecting on the situation with PIOE's (soon to be) wholly-owned subsidiary RCP Advisors 2 and 3, in trying to estimate what might be their operating income, we know for starters that PIOE's huge NOLs of over $275 million will allow RCP Advisors to eliminate any federal tax expenses for many years to come on its earnings. Hennessy pays "mutual fund distributions" for the mutual funds it operates, but this is not applicable to RCP Advisors' situation with its Private Equity Funds. Hennessy also pays a substantial amount in "sub-advisor fees," but from reading RCP's Form ADV Brochure the Advisors get various fees and compensation from their RCP Private Equity Funds, not vice versa, and RCP 1 (and RCP 2) will pay sub-advisor fees to RCP 3, not the other way around.
The big question, as I see it when looking at a financial statement like Hennessy's, is whether RCP Advisors is paying any significant amount of interest expense on a loan or loans. For example, if RCP Advisors 2 at any time after 2011 took out a $10 million loan for some purpose, at 8% financing terms, they would be paying $800k yearly to service that debt. To further illustrate, with PIOE's 89.23m outstanding shares, any yearly interest-payments by RCP that amounts to $892k would nick PIOE's bottom-line EPS by $0.01.
I'm betting that the P10 / 210 Capital executives and board directors have thoroughly vetted RCP Advisors 2 and 3 before moving to acquire them, and have very much liked what they found in terms of RCP Advisors' gross and net profit margins, and made sure that no onerous debt is weighing down EPS.
Once the acquisition for RCP Advisors 3 is completed in January 2018, then the Q1 2018 earnings report for PIOE, due out around mid-May 2018, should make all these financial line-items clear to the rest of us. Useful financial information on RCP Advisors 2 may emerge even earlier, in PIOE's Q4 '17 report, due out in mid-March, since the acquisition of RCP 2 is already closed.
Meanwhile, Paysa's website indicates that the average salary for "44" full-time personnel at RCP Advisors is $120,000 / year, including bonus. (RCP Advisors says at their website they have 45 full-time and part-time employees.) I don't know how accurate that average salary number is, but assuming some increase in the average to $130k, for 45 persons that would amount to about $5.85 million for compensation. To this figure must be added salaries for some clerical staff and for PIOE's new co-CEOs Robert Alpert and C. Clark Webb and also CFO/Vice-President James "Jay" Powers, as well as compensation for the Board directors of PIOE. I surmise that these extra compensation costs are around $1 million, for a total of about $6.85 million for the two entities (PIOE and RCP), considerably less than Hennessy's "Compensation & Benefits" line item amount. I'll assume that RCP Advisors' "General & Administrative" costs (e.g., office expenses, legal costs, investment research expenses, ongoing IT development) are around $4-$5 million, and that RCP Advisors' "sub-advisor" fees are much lower than average because, as mentioned, the RCP Funds pay fees and compensation back to RCP Advisors. But let's estimate that the new combined entity of PIOE / RCP Advisors will have overall operating expenses of around $12-$13 million.
Because of the huge relief from taxation under new parent company PIOE, RCP Advisors' Operating Income figure and Net Income figure are barely different,except for whatever interest expense, and this is likely negligible, as discussed.
Hence we give a forward estimate that "$23 million in revenue for the past twelve months" will probably be for AUM-growing RCP Advisors more like $24-$25 million in 2018, and we then assume around $12 million (less than 50% of their revenue) will show up on the bottom line as net income/earnings. Then we divide these net earnings by the number of PIOE shares – 89,234,816 shares— to derive an EPS of 0.134. This is nearly the same as if we just apply what seems to be an industry average of ~46% operating profit margin on $25 million in revenue for 2018 (producing an EPS of 0.135). We can assign a P/E valuation multiple of 14 or 15 on that 0.134 EPS amount to get a shareprice of $1.87 to $2.01. Going more conservative, assuming just an EPS of 0.12 for 2018 and a P/E of 14 gets the stock to $1.68.
But we should not limit ourselves to thinking of PIOE's bottom-line earnings only in terms of RCP Advisors growing its AUM and EPS organically. What about so-called "inorganic" growth?
RCP Advisors 2 and RCP Advisors 3 probably hold a considerable amount of cash and cash equivalents, as is usual with such a large investment advisory firm. And PIOE also has some remaining cash: as of Sept. 30, 2017, it had $4.368 million in cash and equivalents, minus nearly $600,000 for various costs incurred since then in making the acquisition of RCP Advisors 2. I expect some more expenses, probably smaller, for the finalizing of the RCP 3 acquisition that closes in January, probably around $400,000, leaving PIOE with around $3.3 million in cash on its own balance sheet.
Add this PIOE cash to that held by the acquired segments of RCP Advisors, then add more cash from earnings over time as RCP's AUM presumably swells further, and there may quite a lot of money to go out and purchase more growth. RCP Advisors has already done that in the past by buying GPScout as a fee-generating business segment.
Any new buyout by RCP Advisors could easily add more revenues, translating into more tax-free net earnings.
And I have not yet here included any monetization of PIOE's extensive collection of patents (see next section)….
______________________________
Likely Patent Monetizations for PIOE
We have the possibility of further revenues accruing from PIOE's intellectual property in the form of patents that it continued to hold after the divesting of its Active Power business in Fall 2016. For a description of each of PIOE's 18 U.S. patents and 3 foreign patents, see here.
Most intriguingly, on August 13, 2017, the company announced the addition to its Board of Directors Robert B. Stewart, Jr., who serves as President of Acacia Research Corporation (Nasdaq: ACTG). Says Robert Alpert, Chairman of P10's Board, Acacia is "an industry leader in patent licensing. Rob has been an executive at Acacia for nearly two decades, helping to deliver hundreds of millions of dollars of value to Acacia's patent licensees…. We are extremely excited to have Rob join our board, especially given his background and expertise in IP licensing and look forward to his help in monetizing our patent portfolio."
One can read much more about Robert Stewart's Acacia Research at this SeekingAlpha article.
Stewart's association with P10 suggests that some lucrative deals may be forthcoming, generating revenues either from sales of patents or licensing one or more patents. Such revenues could go toward raising cash holdings and/or bottom-line profitability, and/or be used for P10 Industries or its RCP subsidiary to make further investments in revenue-generating plays to further boost P10's annual EPS.
It is worth mentioning that on the conference call back on March 23, 2017, then-CEO Mark Ascolese declared that the company's great preference would be to do licensing deals with partners who could actively make use of the patents in creating revenue-generating businesses.
But there may be companies interested to purchase certain patents outright. A fellow shareholder has written at the PIOE Ihub discussion board: "Think about why Langley bought out Active Power (now PIOE). [They paid circa $26 million] and what did they get? A few million [dollars] in inventory and a few million in cash. Most of what they paid was for ACPW debt and obligations [$17 million]. So really the money they forked over must have mainly been for the UPS patents they acquired for Piller. This gives you an idea how much patents can be worth to the right party." In the press release of Sep. 30, 2016 announcing the planned sale of Active Power's assets, liabilities, and some of its intellectual property to engineering-industrial group Langley Holdings, Board member Bernard J. Langley affirmed the value of this IP. "The addition of Active Power's differentiated flywheel UPS technology to Piller's power protection portfolio will further strengthen its position in the market, creating more compelling alternatives to traditional UPS offerings for mission critical applications." So presumably the patents that PIOE has elected to keep are also worth a substantial amount.
If we assume PIOE scores a licensing deal for one or more of its patents, let's remember that earnings will be tax-free for many years to come, and licensing deals usually involve minimal expenses for the granter of the license. So almost all licensing revenues in PIOE's case would go straight to their bottom line net earnings.
Summing up thus far our attempts to value the new PIOE / RCP entity on the basis of earnings, we have contributions to such earnings not just from RCP Advisors' current diverse fee-based revenues, we have the probability of revenues from buying more revenue via cash-based acquisitions by RCP and also monetizing some of PIOE's extensive patents.
For every additional $0.01 generated in EPS ($900,000 in net earnings divided by nearly 90 million shares), with a P/E of 15, PIOE's shareprice would be worth another $0.15. In other words, if my best guess of at least 0.13 EPS in 2018 for PIOE (on what we currently know about RCP revenues) actually increased to 0.15 EPS with, say, a single patent-licensing deal or a buyout of a profitable nanocap company, then a P/E of 15 would produce a shareprice of $2.25, not $1.95, a 200% gain from the current shareprice in the mid-$0.70s.
Start adding all these prospects together and ever-growing fees for RCP and it's easy to see how PIOE might reach an annual EPS of 0.20 sooner than later, meriting at least a $3 price-per-share. PIOE's small float of publicly traded shares may lead to a higher P/E if institutional investors start anything like a "bidding war."
______________________________
How RCP Advisors Benefits from the Acquisition
A big question may lurk in the minds of readers: How in the world does the large, respectable RCP Advisors firm benefit from being acquired by the pink-sheets traded PIOE?—which some of us shareholders humorously described as having been for several months after March 2017 "two guys with a 10-K," referring to former PIOE CEO Mark Ascolese and his CFO Jay Powers, the only two employees of PIOE at the time (not to mention a few other Board Directors).
Well, by getting reverse-merged into P10 Industries, the wholly-owned subsidiary RCP Advisors will benefit immensely from many years of tax-free earnings. Plus, it will have all the advantages of a publicly-traded company: liquidity of shares and the possibility of going to a wider group of investors for any fund-raising to buy a lot more revenue growth if it chooses not to just grow organically as it has been doing for several years (see earlier chart of impressive AUM growth the past 5 years). By reverse-merging into PIOE, RCP Advisors also accomplishes the goal of becoming a publicly-traded company much faster than had it gone the traditional IPO route, which can take 12-18 months of work and significant costs.
It is a strong probability that the new PIOE / RCP entity will up-list to a major stock exchange for greater prestige and to give institutional investors the chance to invest here. As one fellow shareholder declared at a PIOE discussion board, RCP Advisors are "no small potatoes. They manage both domestic and international funds. Partnered all over the world. They hold pensions, 401(K)s, etc. For them to be owned by a pink sheet company is 'embarrassing,' bad for business. They will definitely have to up-list."
And an up-listing will allow many new investment groups to buy shares, whereas many groups are currently prohibited from buying PIOE, given its present status as an OTC-traded stock.
____________________________
PIOE's Share Structure
If/when an up-listing happens, institutional investors—recognizing the expertise of RCP Advisors top personnel and seeing fellow institutional "white knight" investors Robert Alpert and C. Clark Webb not only heavily involved, but also having taken on the co-CEO positions— will likely move quickly to lock up the relatively tiny float of tradable shares.
That float is probably only about 12-15 million shares out of the 89,234,816 outstanding PIOE shares (as of Oct. 6, 2017). This is because so many shares are held by insiders: 210/P10 Acquisition Partners (Alpert and Webb) have 21,650,000 shares bought at $0.215 and RCP Advisors have 44,171,233 newly issued shares ("distributed across the management team of RCP Advisors," according to the Q3 press release from PIOE). Some 7.88 million shares are still probably held by various parties known to have held significant amounts of shares of ACPW before it became PIOI and then PIOE. The 10-K document from PIOE gives this list of Beneficial Owners as of March 14, 2017, showing a total of 7,881,640 shares in aggregate:
835,400 shares held by Mark A. Ascolese (CEO and Board Member)
347,840 shares held by James A. Powers (CFO, Vice-President, Board Member)
85,000 shares held by Daryl Dulaney (Board Member)
3,530,597 shares held by Board Member Stephen Clearman (inclusive of shares held by Kinderhook Partners, L.P.)
(Other 5% owners, back in early March 2017 when PIOI's outstanding shares numbered only 23.42 million shares:)
1,796,374 shares held by R. Scott Asen
1,286,429 shares held by Joshua Ruch
When one adds up the shares held by 210/P10 (whose heads Alpert and Webb are now the co-CEOs of PIOE), and shares held by RCP Advisors (whose two leads William "Fritz" Souder and Jeff Gehl are now Directors on the PIOE Board) and then adds shares held as of March 2017 by Ascolese, Powers, Dulaney, Clearman, Asen and Ruch, one gets a figure of 73.7 million shares, or 82.5% of the total O/S, held by current and former Beneficial Owners. (The former Beneficial Owners are all now under 5% ownership levels because of the dilution resulting from 210/P10 stepping in and then the acquisition of RCP Advisors.)
This math would leave a public float of only about 15.5 million shares of PIOE to trade—but that may turn out to be well under 15 million shares and down near 14 million. Why? On May 5, 2017, a "Change of Beneficial Ownership" form filed with the SEC showed that Mark Ascolese had disposed of 790,000 options equivalent to 150,000 shares and received instead 1,600,000 options to purchase common shares, exercisable at a price of $0.30. And note that PIOE has the non-dilutive choice "to settle the new stock options for cash in lieu of issuing stock."
This relatively small public float of shares means that any institutional buying pressure could easily lock up most remaining shares. Such buying pressure could skyrocket PIOE's shareprice to a much higher valuation than a P/E of 15. It is also possible that investment banks and other institutions, to increase trading liquidity for PIOE stock and to acquire more shares, may engage with Alpert, Webb, Souder and/or Gehl to get some of their shares though private placements outside of normal trading so as not to disturb the shareprice. Such transactions tend to boost confidence in a company and attract analyst coverage. I expect analysts to start coverage of PIOE and its wholly-owned subsidiary RCP Advisors simply because of RCP's stature and clout.
All of this bodes well for current retail shareholders and anyone purchasing shares over the next several weeks before PIOE and RCP Advisors become better known, especially when the RCP Advisors 3 purchase agreement is completed and announced in a press release, expected to occur in January 2018.
____________________________
How P10 Industries Originated and Got To This Point
In further illumining the remarkable story of this special-situation play, let's go back to a P10 Industries self-description from several months ago, before the October news of the acquisition of RCP Advisors 2 and pending acquisition of RCP Advisors 3:
"P10 Industries is a public company led by proven, experienced business leaders aimed at monetizing highly valued intellectual property assets and acquiring profitable businesses in the commercial and industrial markets to generate profit and positive cash flows, ultimately creating long-term stockholder value. P10 was founded on November 19, 2016, following completion of an asset acquisition of Active Power, Inc., by Piller Power Systems, Inc., a subsidiary of Langley Holdings PLC. Active Power rebranded and changed its name to P10 Industries pursuant to the terms of the acquisition agreement."
The motivation for how Active Power (Nasdaq: ACPW) became the NOL shell company P10 Industries in 2016 can be found in P10's 10-K document filed with the SEC on March 14, 2017:
"On June 15, 2016, our board of directors determined that we should pursue a strategy of protecting our U.S. federal tax benefits of approximately $235.5 million [as of Dec. 31, 2015—fully $274.6 million in NOLs by Dec. 31, 2016] and research and development credit carry-forwards of approximately $4.1 million…, discontinue our then current unprofitable operations, seek to monetize certain intellectual property rights related to patents that did not relate to our core business and make acquisitions of profitable operations that could utilize our tax benefits."
Those operations, primarily involved with flywheel energy storage products and modular infrastructure solutions, were sold off to Piller Power Systems (subsidiary of UK-based Langley Holdings) and—voilà—the new, debt-free P10 Industries emerged on Nov. 19, 2016. It de-listed from NASDAQ in Dec. 2016, then traded on the OTC for several months as PIOI before it became PIOE.
One of the central players in this transformation was Mark Ascolese, chairman of the board of a private defense contractor for over a decade, who arrived at Active Power as CEO in Fall 2013. Within two and a half years, having carefully examined the situation, Ascolese and the Board members decided upon creating a new NOL shell company as the greatest value-making play for ACPW shareholders, 40% of whom were insiders. Shareholders voted for the sale, and thus was born NOL shell company, P10 Industries, in mid-Nov. 2016. Its future prospects would consist entirely of how good a job Ascolese and his associates might perform in acquiring a profitable company to benefit from the enormous NOLs, while also moving forward on monetizing the value of those 21 registered patents held by P10 Industries. What is now clear in retrospective 20/20 "hindsight" view, is that Robert Alpert and C. Clark Webb were already working "incognito" behind the scenes with Ascolese to design and implement the strategy of turning ACPW into the NOL shell company P10 Industries. Who knows?—they might already have had their sights on RCP Advisors as the acquisition target.
The story of PIOI (the future PIOE) and its coming prospects began to be discussed exclusively on one or two InvestorsHub message boards in Fall 2016 by a few dozen investors sharing due diligence, cogent insights and probing questions. Later that Autumn, investors in the new ticker PIOI joined earlier shareholders of Active Power, whose ACPW shares now traded as PIOI.
A major development occurred on March 14, 2017 when PIOI in its yearly 10-K report to the SEC for year 2016 announced that it would consider bankruptcy proceedings to free itself from a lease liability with Langley. On March 22, PIOI did indeed file to reorganize under Chapter 11, which allowed CEO Mark Ascolese to carry off a brilliant play in getting rid of the lease liability but not wiping out shareholders. His "ace up the sleeve" in this move was the Securities Purchase Agreement that brought on the important investor team composed of 210 Capital (aka "Atlas Capital"), founded by Robert Alpert, and C. Clark Webb, founder and Managing Member of Pl0 Capital Management, LLC. The names of Alpert and Webb can be highlighted here, since they are now the co-CEOs of PIOE. During a conference call on March 23, 2017, Ascolese confided that he had been "working for many months" with 210 Capital, and Alpert and Webb specifically formed a new investment entity, "210/P10 Acquisition Partners, LLC," to help P10 Industries take its next steps. As part of the Purchase Agreement, on May 4 Alpert and Webb's 210/P10 Acquisition Partners bought 21,650,000 shares of common stock at a price of $0.215 per share for a total of $4,654,750.00 and established a preferred equity Line Of Credit for up to $10 million if needed.
The news on March 22 of 210/P10 Acquisition Partners coming on board with what amounts to nearly a $15 million investment in PIOI (including the $10 million LOC) was a big positive for the stock, zooming the shareprice from the sub-$0.10 area (hit after the looming bankruptcy news) up to the mid-$0.40s. During the weeks of legal limbo as bankruptcy proceedings played out, PIOI fell in value, went into a trading halt, and then went onto the gray market as PIOIQ. When it began to be traded again on the OTC in mid-June as PIOE, low-volume trading induced some volatile swings and then, as a few impatient investors sold some or all shares, the stock fell on very low volume to the low $0.30s in early October—right before the huge news of acquiring RCP Advisors.
(On a personal investing note, upon the 10-K mention of bankruptcy I sold for just a tiny gain all my shares, bought early in 2017 at avg. of $0.205, re-bought them at $0.34 after the investment by Alpert and Webb, and after the RCP acquisition news, I bought a very full position in PIOE by adding a lot of shares in the $0.60s.)
With news of the RCP acquisition, PIOE stock nearly tripled in less than two trading days, zooming to briefly touch $0.93 on Monday Oct 9 before retracing to as low as $0.61, thereafter trading in a range between $0.66 – 0.75 over following weeks. It is known from the InvestorsHub.com PIOE discussion board that some shareholders who were averaged in at a low price on their shares were happy to cash in for 100-200% gains after having held for weeks or months. Some "old-timer" shareholders of ACPW from 2016 and earlier were also content to sell most or all their shares, not having seen prices near this range since April 2016.
It is my own opinion that both kinds of sellers have not fully considered what PIOE shares might actually be worth after the acquisition of RCP Advisors, probably somewhere between $1.70 and $2.10 in 2018, depending on valuation methods and further revenue opportunities already discussed here. Some of these sellers and profit-takers may return to buy as the full value of PIOE becomes more openly known once the acquisition is finalized and PIOE management is free to publicly disclose more details about RCP's financial situation, and RCP informs investors that PIOE is its acquiring party.

Source: Finance.Yahoo.com
____________________________
Possible Dividend?
Another point worth raising is that in the investment management financial sector in which RCP Advisors operates, small dividends are not uncommon. And so it is a good possibility that shareholders may have some of PIOE's earnings returned to them as distributions. The size of the dividends would depend on whether the Board of Directors of PIOE/RCP decide to orient their company more in the mode of a "value stock" or a "growth stock."
One advantage of a dividend is that, because the executives and directors own so many shares, they can receive ample income each year from cash distributions and thus keep salaries and benefits much lower, which helps boost bottom-line earnings and in turn raise the shareprice….
Which of course further enriches all shareholders, including themselves.
______________________________
Risks to the PIOE Investment Thesis
There are always risks in investing. The primary risks to the PIOE and RCP story as I see them at this point in time are the following:
1) Rob Stewart may never deliver much if any monetization value to PIOE's 21 registered patents. But this is unlikely, given what Langley was willing to pay for the collection of patents that ACPW (later PIOE) sold to them in 2016.
2) RCP Advisors' bottom-line financial situation in terms of net earnings and cash-flow may not be as robust as we would expect for a large, successful and obviously popular investment advisory firm with this much (growing) AUM. For instance, it may have bigger expenses than we surmise until we see things more clearly with PIOE's SEC earnings reports next March or May. The reassurance on this risk point is that the PIOE / 210 Capital team of veteran CFO Jay Powers, former CEO Ascolese, board members Alpert, Webb, et al., surely did their due diligence and thoroughly vetted RCP Advisors before acquiring them. It's highly unlikely they picked a company straining to be profitable.
3) RCP Advisors with their Private Equity Funds may not have enough "hedges" in place as counter-measures for preserving or increasing value of AUM in the event of a market crash.
4) A bear market may temporarily or for lengthier time depress the value of their AUM and AUM-management percentage fees.
On these last two points I am not very concerned, because the private wealth amounting to trillions of dollars around the globe is always competitively seeking out the best ROI (return on investment). And so, as we've seen over the past several decades, the USA stockmarket indices, realty markets, and other markets (not to mention certain foreign markets), have sooner-or-later had their plunges in market valuations be followed by V-shaped, W-shaped or "stair-step"-shaped rebounds and recoveries before moving on to achieving ever-new highs…. Consider the strong recoveries after the crashes and bear markets of 1987, 2000-2002, and 2008-2009, and the sharp corrections of August 2015, early 2016 and Fall 2016.
I think this multi-trillion-dollar wealth will overcome the concerns of the bearish doomsday-preachers recurrently sharing their alarmist market-crash predictions to get attention, knowing that in a media realm "fear sells" and "if it bleeds, it leads."
A larger point to be made here is that RCP Advisors is an opportunistic investment advisor and wealth manager, and they, of all people, should be well qualified and eager to find any heavily discounted assets — following the well-known investor adage, "Buy when there's blood in the streets…. Buy, buy, buy!"
That's probably one of the reasons their AUM has grown so strong over the past several years.
In conclusion, I venture to say that PIOE with its wholly-owned new subsidiary RCP Advisors has suddenly emerged on the scene as a fascinating investment story.